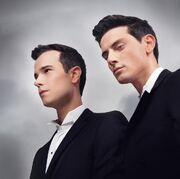 Apollo, god of song, music and poetry to his beloved Cassandra gives a bad gift: he offers the gift of prophecy in exchange for their future antics. She accepted the gift but refuses to god, who then condemned to never be believed. Thus Cassandra desperately predict the fall of Troy, and that any man who approached was promised to doom. In connection with a fatal Agamemnon, it will still be two son, Pelops and Télédamos.
Pier and Flo, both members of the duo Cassandra, recognize themselves in this progeny. They seem to be the heirs of this ill-fated woman who inspired many Greek tragedies, which are Cassandra symbol of those who wanted to change throughout the world, forever powerless convicted murdered for just spoken.
Pier and Flo meet at St Etienne. Both aged 32 years old today, and students are then share a passion for music. Pier practice the piano for his 9 years at the conservatory. He spends hours dissecting and reproduce the works of Bach, Beethoven, Saint-Saens and Chopin. The piano in its greatest form of classicism. Flo also is a pianist, but a different school. Self-taught, he learned the rhythm of the artists are listening while his parents: Depeche Mode, Eurythmics, Frankie Goes to Hollywood. Flo follows the rise and the consecration of a new instrument, the synthesizer. The piano in its most modern form.
Two worlds, two visions of music, which once faced to each other will not ever separate and continually enriching: the duo Cassandre was born.
Cassandre got internally chosen to represent Monaco in North Vision Song Contest 11 with the song "Ma Révolution".