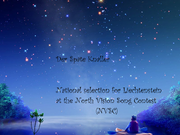 The first edition of "
Der Späte Knaller
" was held on the 17th June in Vaduz, 

Liechtenstein
 . 
10 artists fought for the title:
After there has been a tie between Lisa Wohlgemuth , "Heartbreaker " and David Pfeffer , "I'm Here ", there was a final vote between them. Lisa Wohlgemuth won the tie with 4-3 . So "Heartbreaker " will represent Liechtenstein in Switzerland .