Georgia took part in the fourteenth edition of the North Vision Song Contest which was hosted in Astana, Kazakhstan. The country was represented by Rati Durglishvili with the song "Paper Boat". The entry was selected via an internal selection.
Selection
The 12th April 2014, the Georgian HoD officially confirmed that Georgia will participate in the next edition which will be held in Kazakhstan. Together with the participation the HoD confirmed that Georgia would go through an internal selection due to budget cuts.
A few days later, the "system" of the internal selection was revealed. The Georgian delegation was inspired by the internal selection method of Azerbaijan, so they decided to create a similar system in order to select the next entry. The method is like follows: Day after day, a new clue about the next song will be revealed to the public. After five hints, the song presentation will be broadcasted with a show with different acts, interviews and the respective presentation of the next entry.
From the 17th April to the 21st April 2015, the five clues were scheduled. Every day, the delegation asked the public to make guesses about the answer to a question. After the five hints were known, the public was able to suggest songs which they think it could be the searched entry.
Although the song presentation was scheduled to the 24th April 2015, the show was broadcasted one day later due to technical problems of the Georgian TV channel. The show included a performance of the last edition's winner from Kazakhstan, A-Studio and Tomas N'evergreen with "Falling For You", and an interview with the next Georgian representant Rati Durglishvili. Finally, the song which Rati will sing in Astana was presented. It is the debut single of him "Paper Boat".
At Northvision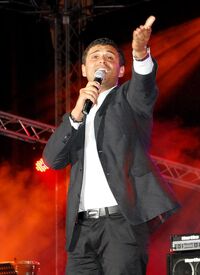 At the allocation drawn, Georgia was drawn to perform in the first half of the first semifinal. Georgia performed sixth in the semi-final.
Rati Durglishvili was able to qualify to the Grand Final by getting second with 122 points, which means that this is the very first time Georgia could compete in the Final. In the final, he managed to place 13th with 120 points.
Voting
Table key
    

Winner – Georgia gave points to a winning song

    

Second place – Georgia gave points to a runner-up song

    

Third place – Georgia gave points to a third place song

    

Qualified – Georgia gave points to a song that was a qualifier

    

Non-qualified – Georgia gave points to a song that was not a qualifier
See also