Georgia took part in the seventeenth edition of the North Vision Song Contest which was hosted in Zurich, Switzerland. The country was represented by Mariam Chachkhiani and Loop G with the song "Gibberish". The entry was selected via the national selection "A Song For Georgia 6".
"A Song For Georgia 6"
The 5th October 2015, the Georgian HoD officially confirmed that Georgia will participate in the next edition which will be held in Switzerland. Together with the participation the sixth edition of "A Song For Georgia" was confirmed.
The artist announcements started the 11th October 2015. It was revealed that there might be some known faces in this edition's national selection. Along with the entrant, the respective song was presented to the public. Day after day, a song of an artist was announced. The running order of the acts was revealed after the announcements.
The voting in "A Song For Georgia 6" started the 5th November 2015. All the NBU broadcaster were able to vote in the NS by giving votes to every song. One song could get a maximum of 100 and a minimum of 0 points from every country. It was not allowed to give two songs either 100 or 0 points in one country's voting. The voting deadline was the 1st March 2015.
In the end, all the votes has been counted together. The song with the biggest amount of votes and so the song with the highest percentage of votes shall be the winner of "A Song For Georgia #6". Mariam Chachkhiani and Loop G managed to win the sixth edition of "A Song For Georgia" and so they will represent Georgia in the PQR #8 of NVSC #17 with their song "Gibberish".
At Northvision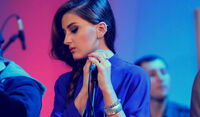 Georgia was drawn to perform on place #4 in the Pre-Qualification Round.
Mariam and Loop G didn't manage to qualify from the PQR #8. That means that Georgia had to stay out of the actual competition in Zurich.