Germany took part at the eighteenth North Vision Song Contest.
National final
Sixteen songs took part in this edition's national final. Every North Vision nation as well as the associated broadcasters could cast their votes. Madeline Juno was selected to represent Germany. After the super-final between her two songs "Into The Night" and "Stupid Girl", "Stupid Girl" won the final with 53,85% of the votes.
At Northvision
Germany performed 18th in the first semi-final and TBA in the grand final.
Being announced as the ninth finalist, Germany completed it's final mission for the eigth time in a row, which beats the previous record (of 7 consecutive qualifications).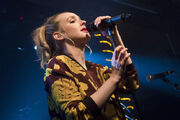 Points awarded to Germany
Points Awarded to Germany (Semi-Final 1)
12 points
10 points
8 points
7 points
6 points
5 points
4 points
3 points
2 points
1 point
Points Awarded to Germany (Grand Final)
12 points
10 points
8 points
7 points
6 points
5 points
4 points
3 points
2 points
1 point
Points awarded by Germany
Semi-final 1

Points awarded in first semi-final:

| | |
| --- | --- |
| 12 points | |
| 10 points | |
| 8 points | |
| 7 points | |
| 6 points | |
| 5 points | |
| 4 points | |
| 3 points | |
| 2 points | |
| 1 point | |

Final

Points awarded in the final:

| | |
| --- | --- |
| 12 points | |
| 10 points | |
| 8 points | |
| 7 points | |
| 6 points | |
| 5 points | |
| 4 points | |
| 3 points | |
| 2 points | |
| 1 point | |