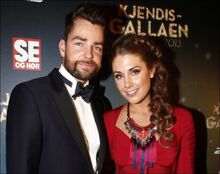 This list includes those who have acted as
presenters of the North Vision Song Contest
. Since the
first edition
the host broadcaster appointed one or more people as the presenters of the edition. Most of the editions featured one or two presenters; however, the
seventh edition
was the first and only edition to have five different hosts.
Presenters
Edn.
Presenter(s)
Edn.
Presenter(s)
#01
Kati Wolf
#18
An Lemmens and Maureen Louys
#02
Páll Óskar
#19
Alessio Bernabei, Federico Russo and Sabrina Impacciatore
#03
Tanja Bachmann
#20
Alban Skënderaj, Alketa Vejsiu and Eneda Tarifa
#04
Eric Saade and Petra Mede
#21
Olga Lounová
#05
Bryan Rice and Signe Molde
#22
Poli Genova
#06
 Nadine Hani, Rita Hayek and Malek Maktabi
#23
Petra Mede and David Lindgren
#07
Holly Willoughby (Semi-final 1)
Emma Willis (Semi-final 2)
Fearne Cotton (Final)
Chlöe Howl and Graham Norton (Final Results)
#24
Ramona Rotstich and Kati Bellowitsch
#08
Maya Sar, Vukašin Brajić and Marija Šestić
#25
Aja and Marie Nadim
#09
Nadia Hasnaoui, Erik Solbakken and Haddy N'jie
#26
Sylvie Meis
#10
Tone Damli and Markus Foss
#27
Nadya Dorofeeva and Aleksey Zavgorodniy
#11
Zlata Ognevich
#28
Charline Mignot and Alexa
#12
Lise Rønne and Casper Christensen
#29
Linda Martin, Sarah McTernan and Kasey Smith
#13
Mei Finegold
#30
Gina Dirawi, John Lundvik, Paul Rey and Sarah Dawn Finer
#14
Zhanar Dugalova
#31
Katrine Moholt, Didrik Solli Tangen and Julie Bergan
#15
Louise Wolff and Ulla Essendrop
#32
Désirée Nosbusch and Vicky Krieps
#16
Bar Refaeli, Ivri Lider and Johnny Goldstein
#33
Levan Gelbakhiani, Natia Todua and Tako Natsvlishvili
#17
Susanne Wille, Monika Fasnacht and Amanda Ammann
#34
Bohuš Hajduch, Jasmina Alagič and Kristína Pelakova
Presenters born outside of the host country
Some of the presenters selected by the host broadcaster were not born in the host country but in another one and were selected either because they work there or because they have origins from the country. Those are listed below in alphabetical order.
Presenters who competed in the contest
Some of the presenters also competed in the contest, either before or after the edition they hosted. The presenters who also competed in the contest are listed below in alphabetical order.
See also
Community content is available under
CC-BY-SA
unless otherwise noted.