Pesna za Makedonija is a music competition organised by Macedonian broadcaster MRT and determines the representative for FYR Macedonia in North Vision Song Contest. The first edition of Pesna za Makedonija was held to determine the Macedonian entrant for North Vision Song Contest 5.
Origin
Pesna za Makedonija was inspired by other NVSC national selections especially the French NS "Duels"
Participation
Both artists and songs are selected by jury members who have been chosen by MRT. The jury members are famous singers from FYR Macedonia.
Artists
Any artist from FYR Macedonia can compete in the national selection. No foreign artists are allowed to compete unless they are participating alongside an artist from FYR Macedonia.
Songs
Each artist can submit as many songs as they like, but only 1 or 2 of their songs can be chosen to participate in the national selection. A composer can be a contributor to more than one song. It doesn't matter what country the composer is from. The artists are allowed to sing in whatever language they like, although it is preferred they sing in Macedonian or English. No cover version are allowed.
Hosting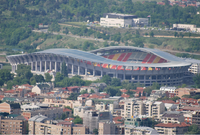 Currently, the national selection is hosted in Skopje in Philip II Arena. The arena can hold up to 35,000 people and is the biggest arena in FYR Macedonia. MRT has decided that due to it's size it will be the permanent host of Pesna za Makedonija, unless it is unavailable during an edition.
Voting
The previous voting format was actually very different to the one used in North Vision Song Contest. The voting was cast by International Juries. The International juries get 100 points and they had to distribute them between the 2 songs as long as the used all of the points. But one song must not have less than 10 points or more than 90 points.
In the second edition, a new voting system was introduced and it is still the current voting system. The votes are cast by jury members from countries part of the NBU. If a country wants to vote, but did not apply to be a jury member, their votes, along with other countries that did not apply will combine and will be entered as votes from the Rest of The World.
The jury members will award 2, 4, 6, 8, 10 and 12 points to their top 6 songs. The entry with the highest amount of points will win the contest and will therefore represent FYR Macedonia in the North Vision Song Contest.
In case of a tie, the song that got points from the most juries will win.
Winners
Community content is available under
CC-BY-SA
unless otherwise noted.