Pre-Qualification Round 1


The Inspiration of Music

Dates
Final
30 April 2014
Host
Venue
Cemil Topuzlu Open-Air Theatre
Harbiye, Sisli, Turkey
Presenter(s)
Atiye
Participants
Entries
9
Voting
System
Each country awarded:


12, 10, 8-3 points (participants)




12, 10, 8-2 points (non-participants)

Qualifiers
4
Pre-Qualification Round
2 ►
Pre-Qualification Round 1 (abbreviated PQR 1), is a pre-event held for the eighth edition of the North Vision Song Contest. Nine countries were participating and four of them qualified to the semi finals of the edition. Turkey was chosen as the host country and the venue was the Cemil Topuzlu Open-Air Theatre in Harbiye, Sisli.
Location
For further information see Harbiye
Harbiye is a neighbourhood of Şişli, Istanbul, Turkey. The neighbourhood takes its name from the Mekteb-i Harbiye (Ottoman War Academy) that functioned here for many years, although with intervals, in the 19th and 20th Centuries and whose buildings continue to serve as the Military Museum of Istanbul.
Among the other important buildings located in Harbiye are Istanbul Radio House, the Cemal Reşit Rey Concert Hall and the Cemil Topuzlu Open-Air Theatre, all republican era architectural assets of Turkey.
Bidding phase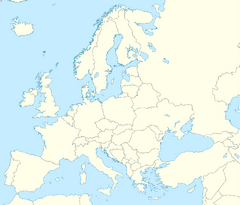 Countries could submit cities and venues to host the show since 16 April 2014. However, only countries that were not part of the show could apply to host. Along with the venue, the broadcasters had to submit a logo and a host for the show. First to apply were Portugal and Hungary with the Centro Cultural de Belém and the Budapest National Theater respectively. Third apply came from Serbia with Šabac Roda Centar as the candidate venue. With the Sad Janka Kráľa and the Cemil Topuzlu Open-Air Theatre respectively, the last countries to join the phase were Slovakia and Turkey.
The host was selected through a poll. After four days of voting, Turkey was selected as the host of the event with 20 out of the 82 votes.
Format
Those who finished in the lowest 5 positions of each Semi Final of the seventh edition will have to participate in the pre-qualification round. Four countries will qualify from the pre-qualification round and can join the Semi Finals of this edition. It was decided that Switzerland would not have to participate in the PQR because it did not originally finish in the bottom 10 in NVSC 07. It finished 11th-to-last, and only originally had to participate in the PQR because Cyprus, who came second to last in the same semi withdrew from the eighth edition.
Results
Voting grid
Voting results
Montenegro
70
7
7
12
7
12
8
6
5
6
Armenia
49
7
6
3
8
8
7
5
3
2
Greece
75
5
3
10
12
3
12
10
8
12
Belarus
62
6
5
8
4
7
5
12
12
3
Andorra
71
10
12
10
4
5
6
7
10
7
Czech Republic
51
3
8
4
6
3
4
8
7
8
Albania
59
12
6
3
8
10
6
3
6
5
Azerbaijan
47
4
4
5
7
6
4
3
4
10
Monaco
68
8
10
12
5
5
10
10
4
4
See also
External links